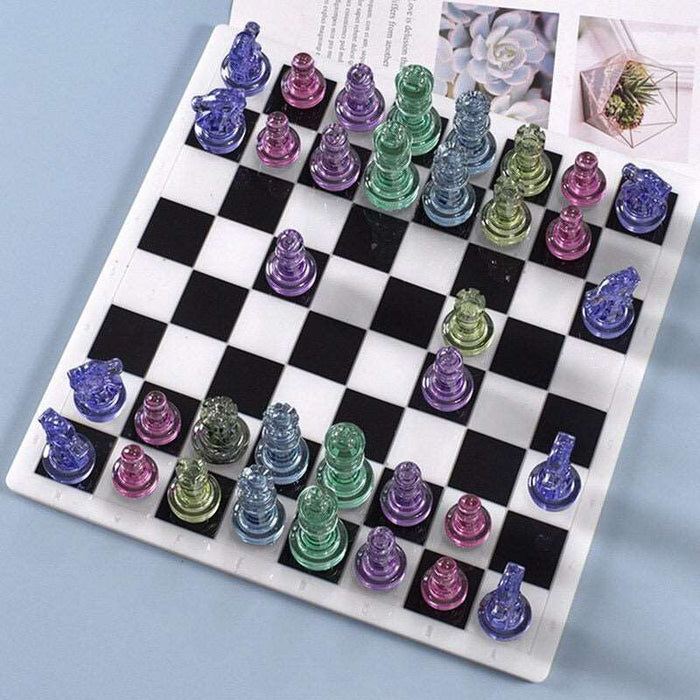 Chess Board Set Silicone Mold
Save

31

%
Save %
Original price
Dhs. 40
-
Original price
Dhs. 95
This mould will allow you to cast 3d Shape of each chess piece each time you use it.
Chess Board Set Silicone Mold 
This contains 1 x Pawn, 1 x Knight, 1 x Bishop, 1 x Rook, 1 x Queen, and 1 x King
Features:
1. High-quality silicone, flexible and reusable.
2. High transparency and easy to use.
3. Odorless, non-toxic, dust-proof, durable, non-permeable.
4. Offer large space for adding various embellishments or fillers, like crystal, stone, dry flowers, glitter, sequins, pearl pigment, mica powder, or other elements you like.
5. Easy to release, and store, just twist the mould to push out the resin pieces when they fully cure.
6. Some warm soapy water is enough to completely clean the mould.
7. Just keep them away from direct sunlight.
8. Thick enough, well resistant to tearing, hard to deform, pretty durable.


Our silicone moulds, provided they are well cared for can be re-used again and again. Do not use a fire close to the mould (use a craft heating gun instead ) and be cautious when de-moulding.Try not to scratch the mould with long nails or bend it out of shape too much.

If the crafted product turns out too dull it might be that the mould has reached the end of its life (or the mould has lost the shiny interior texture). It is however still possible to keep using the mould but you may need to first have a thin layer of resin initially on top before casting and then polish the surface.