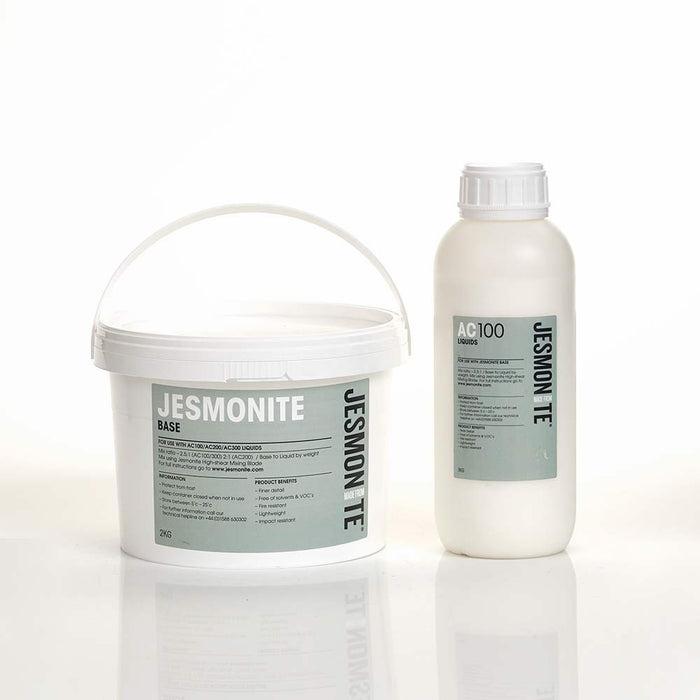 Jesmonite AC100 Kit - 3.5kg
Save

0

%
Save %
Original price
Dhs. 0
-
Original price
Dhs. 0
Jesmonite AC100 Kit - 3.5kg
Jesmonite AC100 is a water-based composite material used to make decorative moulded objects. It is safe to use and contains no solvents or VOCs. It can be cast and laminated using our unique Quadaxial Glass.
Jesmonite AC100 Liquid should be used within twelve months and Jesmonite Base should be used within nine months from the date displayed on the packaging.
Products benefits
Superior cast and glass reinforced mouldings
Solvent free & no VOC's
Fire resistant
Lightweight
Impact resistant
Information
Easy to use, adaptable material for all moulding applications.
Suitable for decorative cast objects, mould cases, wall panels.
Supplied with a range of ancillary products including glass reinforcements, pigments, fillers, and control chemicals to adapt the material to the widest range of applications.
The ultimate chameleon material, can replicate virtually any surface, colour, or texture.
Available in:
Kit sizes range from 3.5kg to 35kg. See the product list for the full range of ancillary materials compatible with AC100.
SPECIFICATIONS
Mix ratio 2.5:1 parts Base to Liquids ratio by weight
Wet density 1845 kg/m³
Dry density 1745 kg/m³
Initial set 15 – 20 minutes (18°C, No Retarder)
Expansion on set 0.15%
OTHER PROPERTIES
Compressive strength:  25 – 30 MPa
Tensile strength (UTS):  25 – 35 Mpa
Bending elastic limit (LOP):  15 – 20 Mpa
Bending strength (MOR):  50 – 65 Mpa
Youngs Modulus:  5 – 6 Mpa
Impact strength (Charpy):  30 KJ/m²
Moisture movement:  <1%
EN13501-1 Fire Classification:  B-s1-d0
Freeze/Thaw resistance:  Excellent – Test specimens undamaged
Wet/Dry 50 cycles:  Test specimens undamaged
APPLICATION AREAS
Cast and laminated decorative mouldings, and with the inclusion of suitable glass reinforcements AC100 can be used for lightweight, high-impact panels. Jesmonite AC100 provides a fire resistant coating for many expanded foams for theme park and theatre props.
KEY ATTRIBUTES
Solvent free – No VOC's
Good abrasion resistance and impact strength
High compressive and tensile strength
Rapid curing and high early strength gain
STORAGE
As a basic rule liquid containers should be kept well sealed to prevent water evaporation and skin forming. They should be stored at a constant temperature between 5 – 25°C and used within twelve months. Freezing must be avoided. Base should be kept dry and stored at 5 – 25°C and used within 9 months.