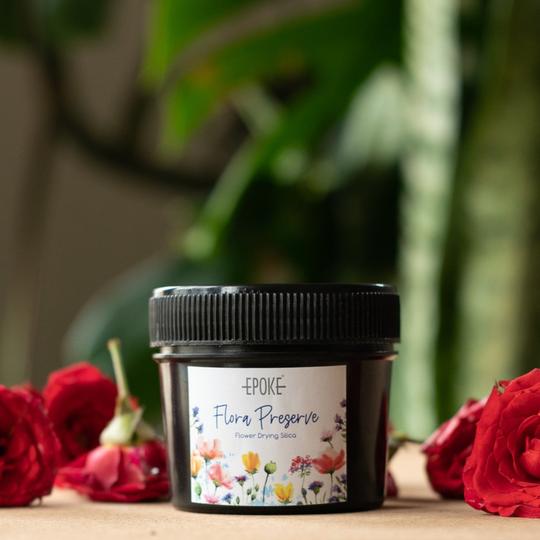 EPOKE Flora Preserve - Flower drying Silica
Save up to

0

%
Save %
Original price
Dhs. 0
-
Original price
Dhs. 0
While there are many ways to dry and preserve flowers, EPOKE Flora Preserve flower drying crystals can be more efficient as it absorbs the moisture from the plant material with less discoloration and fading than hang drying or pressing. It enables one to easily dry flowers within a matter of a few days even minutes, and in doing so the shape and color of the flowers are maintained during the drying process.
Supplies Needed:
Flowers
Scissors
Small cup
Airtight containers
EPOKE Flora Preserve silica gel for drying flowers
Step 1 : Lay a layer of EPOKE Flora Preserve silica gel on the bottom of the airtight container. Then process the flowers, remove the bad petals by hand, cut off the long branches, and reserve 3-5cm of flower branches.
Step 2 : Lay the trimmed flowers on top of EPOKE Flora Preserve silica gel for drying flowers.
Step 3 : Slowly pour the remaining EPOKE Flora Preserve silica gel onto the surrounding area with a small cup. First, cover the flower core and carefully fill in each petal, taking care not to make the flower out of shape.
Step 4 : When the flowers are completely covered, seal the container and leave in a dry place for 3-7 days. ( Pay attention to the degree of dryness of the flowers and increase or decrease the drying time as appropriate. )
Reuse: Epoke Flora Preserve can be reused a couple of times until it looses it's moisture absorption capability completely. This could vary between 3-6 use cycles based on the ambient conditions and the kind of plant materials being dried. Keep EPOKE Flora Preserve in the sunlight for 6hours in a dry , non-humid climate , and its ready to reuse .
Flowers best preserved by EPOKE Flora Preserve: Anemones, Daisies, Zinnias, Roses, Azaleas, Freesia, Strawflower, Sea lavender, Pansies, Queen Anne's Lace, Larkspur, Peonies, Grape Hyacinths, Lily of the Valley, Orchids, Delphiniums, Statice, Yarrow, Primroses, Baby's breath, Grasses, Carnations, Bachelor Buttons, Foliage, Dahlias, Geraniums, Celosias, Asters, Marigolds, Chrysanthemums, Cockscomb, Gomphrena, etc.
NOTE: White flowers may become beige after dried, while red flowers will be a little darker.